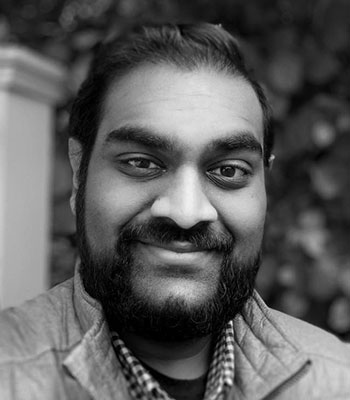 Prad Parthiban
Founder
DeepTech
Prad is a 2x Founder and a DeepTech startup builder on the East Coast. He has nearly a decade of experience building startups, raising funding, coaching Founders, conducting due diligence, as well as architecting, engineering, and executing Deep Tech, Defense Tech, and Tough Tech Accelerators. Prad has been the lead for 100+ Early to Mid-Stage companies through 10 different Accelerators and Studios across Academia, DoD and Venture Capital. In his most recent Techstars Class, Prad has helped source and select 12 Founders and build their companies as an Operator while also helping them raise Pre-Seed and Series A rounds. He also currently leads a think tank and accelerator known as Just Venture Labs for DeepTech entrepreneurs and researchers to build tech solutions to intractable societal problems. Prad also serves as an Entrepreneur-in-Residence (EiR) for Harvard Alumni Entrepreneurs (HAE), an Advisor to Visible Hands VC, and a Mentor for Hack.Diversity, which helps technical engineers and Founders via coaching and mentorship.
In his previous role on the J.P. Morgan Investment Team of Techstars DC, Prad managed 12 venture-backed companies and supported them operationally and in their fundraising. In his prior role at the DoD, he designed and led multiple Defense Tech Accelerators for the Department of Defense, the NIH, the Quantum Foundry and BAE Systems, where Prad created entrepreneurial opportunities for entrepreneurs at HBCUs, the maternal care community, for large corporate ventures and for government primes, as well as niche Deep Tech startups in the commercial space from various sectors to create dual-use ventures through the DoD. He has close to a decades' experience architecting, engineering, and executing Deep Tech and Tough Tech Accelerators, conducting due diligence on promising early-stage tech startups, and coaching underrepresented founders.
His personal portfolio of Defense Tech companies have received SBIR Phase I and II Awards from the U.S. Gov. and have entered many U.S. Government Programs of Record. He designed and created BAE Systems' first ever corporate Accelerator with FedTech and all 12 participating companies entered a Program of Record with the U.S. Government. He has also led 12 HBCUs to receive $1M in Prize Funding and Cooperative Agreements from the U.S. Army by leading the Army xTechHBCU Prize competition. Prior to his accelerator work, Prad helped coach and mentor tech-based social entrepreneurs via MIT Solve at the BMW Foundation in Germany, the Octava Foundation in India, and Nagoya University in Tokyo, Japan using the lean startup method and design thinking strategies in a virtual format. He has helped founders across clean tech, cybersecurity, GovTech, biomedical, aerospace, quantum science and many other Deep Tech and Tough Tech sectors with an empathetic approach from his experience exiting his own AI startup, RiskBoard, incubated at Harvard and MIT to the UN.
Prad's professional experience spans academic think tanks, tech startup ventures, and tech companies. Over the last decade, he has worked for the United Nations, the MIT Media Lab, Harvard Kennedy School, rocket launch provider Firefly Aerospace, and fast transportation Hyperloop startup Texas Guadaloop and SpaceX. At Harvard, he has served as a Tech + Public Purpose Research Fellow and is also a Harvard College career advisor and Admissions interviewer. His previous research has covered topics intersecting human rights with content moderation in emerging media, and he has contributed to reports "Reimagining Investing in Frontier Technology" and "Ethics, AI and Human Rights' ' published by Harvard Business School and Harvard Kennedy School. He also co-founded RiskBoard, a company incubated at and funded by Harvard and MIT, which focused on applying Machine Learning and AI to highlight global human rights abuses in corporate supply chains around the world, which he later brought to the UN in the form of the Code 8.7 Project. Since his time with the UN, Prad has consulted and done due diligence on various tech startups with organizations like MIT Solve, the State Department-funded anti-trafficking initiative called NECAT, and Darsha Acadamy, a science and tech school for at-risk young women in India. He also supports the work of the Center for Humane Technology in Silicon Valley.
Prad holds a Bachelor's Degree in Biology from UT Austin, a Master's Degree in Business Management with a focus on Social Entrepreneurship from Harvard University, and has completed a post-graduate law program at the University of Oxford in England studying International Human Rights Law. Prad currently lives in Washington, DC in the Capitol Hill Area.